Unlike the common belief, Surrogacy is a very common option for many families worldwide. And we are thrilled to help many of them fulfill their dreams of parenthood and make it a seamless and enjoyable journey. Here is how Tammuz Family can help you fulfill Your dream of becoming a parent: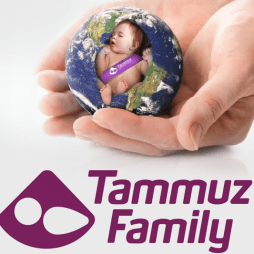 Many individuals and couples find themselves needing surrogacy services but are unsure where to start and may feel overwhelmed. We are a dedicated, experienced, and knowledgeable team that not only provides surrogacy service but leaps a step towards family building. Our services are custom built to fit your needs whether you need to be matched with a specific egg donor, take care of the legal aspects or get a birth certificate for your newborn.
Choosing a surrogacy agency could be a challenging decision. You need to find a trusted partner to walk by your side through the process and provide unlimited support both mental and physical. With the Tammuz family you are never left alone, we reduce your stress and give you all the support you need throughout the entire process by doing a heavy lifting.
At Tammuz Family we are proud to have over 1,100 healthy babies born, fulfilling the dreams of parenthood to the families across the world; some included are Australia, Sweden, Denmark, Argentina, China, India, Israel and USA.
Take the first step to ensure we are a good fit for you and your family. Schedule a free, nonobligatory consultation with our team member today and learn more about the way we can help you through the process.
Free 1-Hour Consultation
Your surrogacy journey starts with a free 1-hour consultation. During this time, you can ask any questions, discuss the process and packages to ensure that we are the perfect team for your needs. We are here to support you from the beginning to the end with various custom plans tailored to fit your needs and budget.
Keep in mind that all of our plans guarantee you having a healthy baby as a final result.
Our standard all-inclusive plans for surrogacy services cost are:    
· $75,000 for a standard plan
· $108,000 for a guaranteed plan
We provide and promote equality to all single parents and couples. We offer our knowledge, experience, support, short surrogacy matching, and all-inclusive plans so you could focus on enjoying the process while we take care of the details for you. For the best results we have our reputable medical team and fully functional clinics for embryos, medical tests and pregnancy monitoring.
Our Agency speaks for itself, as every team member of the Tammuz family group went through the surrogacy process themselves, using our internal processes and resources. We use our own services, know the process inside out, being on both sides of the process and confident to recommend it to others.
Surrogacy Services for All Individuals and Families
You are not alone, many families in modern society refer to surrogacy services. And Tammuz Family provides equal opportunity to those looking for support and guidance through the process all over the world:
· Surrogacy services for heterosexual couples
· Surrogacy services for gay couples
· Surrogacy services for the single intended parent
· Surrogacy services for HIV+ individuals
We take pride in ensuring every one of our clients is given equality in a respectful environment for the entire process.
Surrogacy is a life-changing decision; Let us be your partner and turn this decision into a joyful and exciting process. We are not just an agency, we are the family, the community, the support, and the knowledgeable partner to make your dreams come true. Take the first step today, reach out and schedule a consultation with us!