Our Guarantee Plans in the USA offer affordable surrogacy solutions with uncompromising quality. Whether you're single or in a relationship, heterosexual or gay, our USA Guarantee Plans are suitable for all IPs. In addition to our four unique Guarantee Plans, we also offer a range of 'pay as you go' plans. Regardless of which plan you choose we offer comprehensive support throughout the entire surrogacy journey.
The Surrogates
All of our surrogates in the USA are American citizens living in different cities. They all undergo a lengthy and rigorous screening process before being accepted in to the program and they must have had at least one healthy baby derived from a successful pregnancy. They are flown to LA for the embryo transfer (to be performed at Western Medical Institute), however during the pregnancy, they live at home with their families and maintain their usual lifestyles. During the first trimester, the pregnancies are monitored by Dr. Kumar from the Western Fertility Institute. After the first trimester, our surrogates are monitored by their personal physicians in their home city. Throughout the pregnancy, the surrogates undergo all the customary pregnancy tests in addition to regularly scheduled blood tests to ensure that they are healthy and the pregnancy is progressing normally and without complications. We recommend that from the time you are matched with your surrogate that you maintain weekly contact vis Skype and/or WhatsApp. This encourages an organic relationship to be formed so when you reach important milestones along the way there is no awkwardness felt by either party. The current waiting time for a surrogate is 1 -3 months, depending on where you are placed on the waiting list.
The Egg Donors
Tammuz Family offers a wide variety of South African and American egg donors. All of the Tammuz Family egg donors undergo psychological and medical screening and IP's are provided with the donor's genetic profile, medical history, education, employment history, interests/hobbies and family medical history. Photographs are also included in their profiles. Our donors are anonymous; however, some will agree to 'meet' via "Skype". Intended Parents can choose either fresh or frozen egg donations from Tammuz Egg Bank, depending on the plan and the program.
Our clinics
Western Fertility Institute, Los Angeles, USA (ranked #1 in the USA & California for success rates in IVF)
The Mission of Western Fertility Institute is to provide a supportive and comfortable environment utilizing the latest technology and equipment on the path to achieving a healthy pregnancy. The physicians are dedicated, talented, and empathetic to the needs of the patients and are at the top of their field. By focusing on patients' overall experience and pregnancy outcomes, Western Fertility Institute is setting the bar for ethics & standards in the industry.
Dr. K
umar
Medical Director
Dr. Kumar is board-certified in reproductive endocrinology and obstetrics and gynecology and practices near Los Angeles, California. In recent years Dr. Kumar has focused his efforts on those who have had difficulty conceiving and require third-party reproduction (egg donor and/or gestational surrogacy). Over half of his current patients are from overseas which includes Australia, Austria, China, France, Germany, India, Italy, The United Kingdom, etc. Combining meticulous attention to detail, 7-day-a-week work ethic, the best support staff (nursing & embryology), and the latest in technology, he is able to obtain the highest pregnancy rates achievable today. He has been asked to present his work worldwide including Australia, India, China, and Italy, and has contacts in numerous clinics that collaborate closely to provide seamless care.
CCRH – California Center of Reproductive Health
We are happy to cooperate with the CCRH clinic, which is located in Encino, California, and is led by Dr. Eliran Moore, a very experienced fertility doctor , who has decades of experience in the field of in vitro fertilization and surrogacy. CCRH was established with the aim of ensuring that everyone who dreams of Having a child will be able to access the most advanced fertility treatments CCRH in California is a global pioneer in fertility treatments and research, with proven high success rates year after year.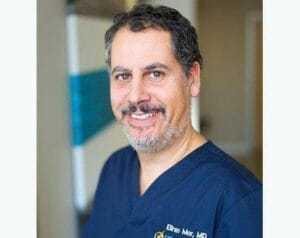 Doctor Moore received his medical degree from the Sklar School of Medicine at Tel Aviv University.
He completed a four-year residency in obstetrics and gynecology at New York Methodist Hospital in Brooklyn, New York. Dr. Moore then completed a three-year fellowship in reproductive endocrinology and infertility at the University of Southern California. Dr. Moore is board-certified in both reproductive endocrinology/infertility and obstetrics and gynecology. He is a distinguished member of several prestigious medical societies, including the American Society for Reproductive Medicine (ASRM), the Pacific Coast Reproductive Society (PCRS), the Society of Laparoscopic Surgeons (SLS), and the American College of Obstetricians and Gynecologists.
Pregnancy Protocols
Pregnancy monitoring is coordinated by the surrogate with her local physician in her home state. The pregnancy monitoring protocol is very strict and includes monthly ultrasounds, nuchal translucency, GTT, Anomaly scans etc.
Legal
Our plans include managing all legal services for you! From contracts with donors and surrogates to issuing a birth certificate with your names on it, we will coordinate everything for you.
What happens after the birth?
After the birth, our experienced legal team will ensure that the relevant name/s will be placed on the birth certificate ASAP. The timing will depend on which state your surrogate lives in. As soon as the birth certificate is issued our legal team will then assist you in applying for a US passport for the baby. Expedited passports can be issued if you can provide the passport office with your airline tickets. Once you have your baby's passport, he/she can travel back home with you on a tourist visa. It is advised to employ a local attorney for advice on how to gain citizenship for your child in your home country.
HIV+ Intended Parents
Tammuz Family is also proud to lead the surrogacy revolution among couples and individuals who are HIV+. This represents a welcoming change in stereotypes and allows these families to become an inseparable and integral part of the broader community. Advanced fertility technology enables couples and individuals who are living with HIV to undergo IVF and conceive perfectly healthy children. Intended Parents undergo specific tests at our clinic before the 'sperm washing' procedure commences. After the testing phase is completed, the sperm-washing phase is carried out. Sperm washing is now internationally recognized as being a safe procedure. In May 2017, after reviewing reports on 11,500 assisted conception cycles that used the sperm washing technique, during which no woman or offspring contracted HIV, the US Government's Centers For Disease Control and Prevention (CDC) determined the process was safe enough to endorse.

Unlimited number of donor eggs until a live birth
Unlimited number of embryo transfers until a live birth
Unlimited number of Surrogate matchings until a live birth
Legal Services – Drafting and signing agency/surrogate contracts and the issuance of birth certificates
Full pregnancy protocol
Tammuz Family specializes in offering same sex couples, straight couples, single men and single women, accessible and affordable surrogacy programs in the USA, Georgia, Colombia and Mexico, and we are proud that, to date, more than 1,500 babies have been born to Tammuz Family Intended Parents.
So how does it work? How much does it cost? Click on the destinations below to find out more.
Discover the best plan for you!
8 reasons why Intended Parents choose Tammuz.