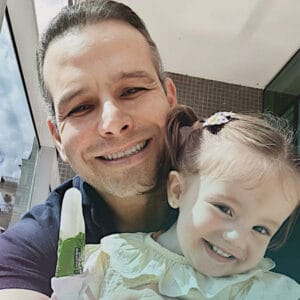 Rodrigo Marder, a single father, went through the surrogacy procedure with Tammuz Agency and he has a lot to tell us about this special process.
Hello Rodrigo! Please tell us a little about yourself
Hello, my name is Rodrigo Marder, and I'm from Brazil. I live in a city called Curitiba, in the south of Brazil. I have a master's degree in business administration. I am also a proud father.
How many children do you have today and how old are they?
 I have two kids, Eduardo and Helena. Eduardo is almost 5 years old, and Helena will turn two next November.
When did you go through the surrogacy procedures?
My first contact with Tammuz was in 2015. However, I went through my first surrogacy process only in 2017 and the second in 2019.
Why did you decide to choose Tammuz surrogacy agency?
Some acquaintances had completed surrogacy processes with Tammuz, and they told me about the company. Their references about Tammuz were positive and encouraging.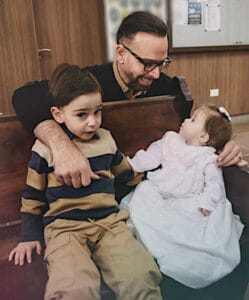 How did you decide that surrogacy was right for you?
First, I didn't know that I could have my own children without being married to a woman. Then some friends recommended Tammuz. I decided to contact them after receiving information about the process and I went to one of Tammuz's seminars in São Paulo. After the seminar, I realized I could be a single father through surrogacy! I had always dreamed about having my own children – then I learned that through surrogacy it would be possible.
In which country did you go through the surrogacy procedure? why there?
Both of my surrogacy processes happened in the United States. In 2017, when I started, the only country place that allowed single fathers to do the surrogacy process was the USA. So, doing the process there was my only option. Nowadays, I know a single father can do the process in other countries too.  
I decided to do my second process in the USA again because I already knew the country's bureaucracy and also, I was lucky to have the same surrogate in both processes.
My children were born in the same hospital through the same surrogate.
How did you prepare emotionally for the surrogacy journey?
Well, in my opinion, we are never totally prepared. I tried to prepare myself during the process after having signed the first contract with Tammuz. I was financially stable, and my family always supported me. So, these factors helped to prepare me for the surrogacy journey.
I also believe that having psychological support can help a lot.  I would advise future parents to make sure they have this kind of support independently too.
Did your family and friends support your decision?
My friends always supported me. As for my family, I preferred to tell them the news only when the pregnancy was confirmed.
They supported me through both surrogacy processes and were on my side. Today the children are a blessing in our family.
How was Tammuz's support during your exciting journey?
I had all the support I needed through both procedures, Tammuz and the entire team, was always there when I needed it. The team was always helpful and willing to resolve any unforeseen situations.
Did Tammuz answer all your questions and give you the support you needed?
Yes, absolutely! The Tammuz team is friendly, professional, and always ready to help. 
Were there any unexpected or surprising aspects of the surrogacy process?
Yes, there were some surprises. When we are going through a surrogacy process many unexpected and surprising things can happen.
You need to be prepared; the situation is out of your control.
Everything was sorted out. We are talking about life; about situations in which we need to trust in God and believe in a higher power. I was thousands of kilometers from my surrogate and I had to accept that I couldn't do anything from so far away.
How was the relationship with the surrogate mother? Was there any communication between you and her?
First, we had a good 'professional relationship', kind of distant.
But with time we got closer to each other, and we developed respectful and healthy communication.  I'm so grateful for what she did for my family. From time to time, we exchange pictures of the children.
Today, we don't speak every day, but we have an open communication channel. She was really an angel in our lives.
Did you have any concerns or fears during the surrogacy process?
Yes, of course. It's impossible to be in a surrogacy process and not have fears. I had to deal with those fears almost every day.
Most of the time the intended parents live far away from the surrogate, so we monitor the pregnancy from afar. It causes a lot of concerns. I think it's completely normal to have these feelings in a situation like this.
Were you involved during the pregnancy and birth?
I was in touch with my surrogate throughout the whole process. When you do the process in the USA you have the opportunity to have direct communication with the surrogate.
We used to text each other on a weekly basis, after the ultrasounds. And on special pregnancy moments like at week 6, I called her to hear the baby's heartbeats during the ultrasound.
Just before birth, she sent me pictures of herself with a big belly. We had a good relationship during and after the pregnancy. In both surrogacy processes, I was present at the time of birth in the delivery room. She allowed me to be there when my two children were born. That was beyond special.
How did you deal with the legal aspects of surrogacy, such as establishing parental rights?
The legal aspects of surrogacy were easier than I thought. Immediately after birth, I was legally considered the father of my children. When I arrived at the hospital, they already knew about the surrogacy process. I returned to Brazil less than 1 month after birth. As my children were born in the USA, they are considered American citizens, so it was easy to obtain their American passports for them, and also Brazilian ones. Establishing parental rights was not a problem at all, and my children have Brazilian and American birth certificates plus passports. They have double citizenship.
What challenges did you face during the surrogacy process, and how did you overcome them?
The distance is the most difficult challenge; however, our weekly communication helped me to manage it. Pregnancy doesn't always work out on the first attempt, so overcoming the frustration of a negative pregnancy is a huge challenge too.
How did it feel to hold your child in your arms for the first time?
 It was a magical moment at both births. The emotion overflowed, being present, and holding my two children in my arms was the most important moment of my entire life. There is no way to explain exactly the feeling.
What do you recommend to future parents who want to go through the process?
The most important piece of advice is to be patient. Have faith. Your baby will be born at the right time. Do not give up! Every effort is worth it.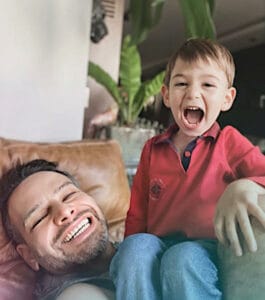 Do you have anything else to add about the surrogacy procedure you went through with Tammuz?
The surrogacy process is complex, but it's simpler than we think. Especially when are doing it with an experienced agency like Tammuz. They will take care of everything.
The intended parents need to be emotionally prepared to deal with joys and frustrations. The most important advice is to follow your heart, raising a family is about sharing love.
I would say a thousand times to future parents – do not give up, Tammuz is an excellent company, and they will help your dreams come true
Thank you very much. We wish you and your children health and happiness.