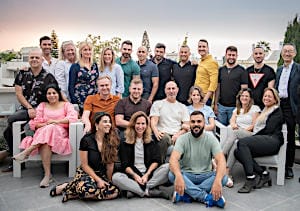 These days, the Tammuz Agency is celebrating 15 years of extensive and successful activity, alongside the challenges and difficulties along the way. Many families are grateful to the Tammuz Family for opening its doors for the benefit of a large audience who are now managing a household with children running from the living room to the garden.
Tammuz surrogacy agency is an international company specializing in surrogacy and egg donation services, offering a variety of consulting, support, and guidance services to the intended parents and the surrogate mother. Tammuz recognizes the importance of emotional and moral support for the intended parents and the pregnant surrogate and provides them with psychological support, medical supervision, and legal and social assistance for all involved parties, offering personalized solutions for each family and their needs.
How it all began?
Tammuz Agency was founded in 2008 by entrepreneur Doron Mamet-Meged with the goal of providing surrogacy and egg donation services to anyone dreaming of starting a family within the proud community and among the general public in Israel and worldwide. The reason behind this lies in his personal life when he wanted to expand his family and bring children into the world but encountered nearly impossible bureaucracy, numerous difficulties, and discrimination. Doron and his partner desperately longed for a child. They wished to embrace a child in their arms and raise them with love, but they initially struggled to do so easily.

After thoroughly researching the topic, they decided to embark on a surrogacy journey in the United States. They stepped towards their dream, hand in hand, determined and focused. The journey was not easy and very challenging, but they did not give up for a moment. They did not give up on the bewildering cave and didn't give up on themselves, even when they did it all almost by themselves.
Doron and his partner had a daughter named Talia and the happiness was unbelievable. Talia was among the first Israelis Babies born through surrogacy and the reason for Doron's decision to help other parents.
They had the help of an Israeli/American doctor, but they had to find all the other provide services by themselves. Throughout their journey, they realized that there is a way to bring a child into the world through surrogacy, but they also knew it was an expensive and challenging process, medically and legally, as well as emotionally.

At that time in Israel, there was no agency available to assist with the surrogacy process, to give support specifically tailored to the LGBTQ+ community. Doron decided to step up and become the person who would do it for anyone who wanted to bring children but couldn't do it alone. He left his job in the high-tech industry and dedicated his life to establishing a large agency that would provide all the necessary surrogacy services for anyone who desired it and had nowhere else to turn. Tammuz was the first surrogacy agency in Israel that focused its services on gay people.
Achievements over the Years
Tammuz Family's services are offered to everyone, regardless of gender, race, or sexual orientation, with a professional, experienced, and skilled team that is here for you and wants to continue to guide, advice, support, and accompany many families and help their dreams come true. The agency's team includes doctors, psychologists, counselors, lawyers, and an additional management team that assists in the surrogacy process, comprising individuals who have gone through the surrogacy process themselves, bringing personal experience and making them the most suitable to support families who have not yet embarked on the process they have successfully completed.
Over the years, the Tammuz Family has led public, media, and legal advocacy efforts in favor of equality in surrogacy for everyone, including individuals, same-sex couples, transgender individuals, and single parents. So far, with the help of Tammuz, over 1,500 babies have been born in groundbreaking processes, and hundreds of parents have been able to embrace their babies, with many eagerly awaiting the birth of their babies in the coming months.
In 2011, Doron was chosen as one of the 50 most influential LGBTQ+ figures in Israel. In recent years, he has also received international recognition when Tammuz expanded and established collaborations with other countries such as Georgia, the United States, Colombia, and Mexico. Doron was even honored as one of the individuals who brought more happiness to the world through this initiative, alongside legendary figures like Mark Zuckerberg and Oprah Winfrey. Congratulations!
In 2022, the surrogacy law was successfully passed after years of struggles and protests. It seems that once the LGBTQ+ community became a parenting community, something changed for the better. The public's acceptance and inclusion of the LGBTQ+ community became stronger and more noticeable.
Today, the Tammuz family has offices and representations in many countries around the world, including Brazil, Sweden, Norway, Finland, Mexico, Portugal, Argentina, South Africa, Australia, India, and China. They also have a network of renowned fertility clinics in Asia recognized by the FDA and a diverse egg donation database.
We will continue with all the strength and with lots of love to fulfill your dream, and we are always here for you for any questions you may have.