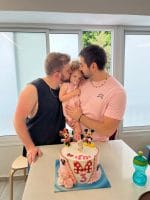 Tiran Ronen, The manager of Tammuz Agency's surrogacy programs in Colombia and Mexico, has undergone the surrogacy process twice with his partner to expand their family. He is here to tell us about the exciting journey they went through together.
Hi Tiran, could you tell us in which country you and your partner went through the surrogacy process?
My partner and I went through both of our surrogacy processes in Albania.
Why did you decide that surrogacy was the right path for you?
We didn't initially think that surrogacy was the right path for us to start a family. We both wanted to adopt a child and provide a home, warmth, and love, specifically for children who have no parents and are alone in the world. However, adoption was not a realistic option in Israel, at least not for homosexual couples, So we turned to surrogacy agencies because, above all, we wanted to establish a family and become parents.
What factors did you consider when choosing a surrogacy agency, and why did you choose Tammuz?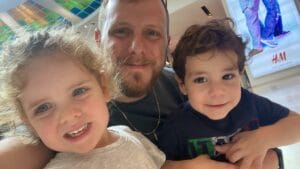 We chose Tammuz because of its reputation, prestige, and many years of experience. Surrogates at low costs and on routes not in the US, did not exist at the time. Tammuz made our dream accessible and enabled us to achieve it.
What factors did you consider in choosing the surrogate mother?
The choice of the surrogate mother was made by the clinic. We trusted their decision and knew that the surrogate mothers undergo a rigorous screening process based on all the relevant parameters for our journey.
If she (the surrogate mother) is accepted into the program, it means she is an excellent candidate.
How did you emotionally prepare for the surrogacy journey, and what support did you receive?
We shared the exciting journey with our family and friends, and everyone supported, encouraged, and celebrated with us. This circle of support provided us strength and a sense of security, that we were not alone and our dream is also shared by our relatives.

What was your impression of the support provided by Tammuz Agency throughout your work with them?
I fell in love with the Tammuz family! I didn't choose to work here by chance, but rather to help others fulfill their dreams.
How was your relationship with the surrogate mother? Did you maintain any contact?
There was no communication with the surrogate mother throughout the entire process.
Did you have any involvement during the pregnancy and birth?
We had no involvement in the process regarding pregnancy or any decisions related to childbirth. We relied on the clinic's immense expertise and we knew that Tammuz family was with us and supporting us throughout the way.
The close and professional guidance we received, bridged the gaps and alleviated concerns regarding "long-distance pregnancy" and of course the fear of losing control.
How did you navigate the legal aspects of surrogacy, such as establishing parental rights?
We have an ongoing connection in Albania, so the process was halted there as there was no solution to conclude the legal process. This decision was made after the local court ordered that the connection between the birth mother and the newborns in Albania should not be severed. With the Israeli authorities, we managed to obtain joint guardianship for both children, but it is not a complete solution to this issue.
What challenges did you face during the surrogacy process, and how did you overcome them?
We faced numerous emotional challenges. The surrogacy process is like an emotional roller coaster ride. Uncertainty, lack of control, the period of pregnancy that we cannot physically witness—these were all significant challenges that accompanied us throughout the crazy journey until the birth of our children. Our mutual support helped us keep our heads above water, and as a result, our relationship only grew stronger.
Were there any unexpected aspects that you encountered in the surrogacy process?
No. Tammuz reflected on everything that was known to her from the beginning and accompanied us at every step of the process.
What do you recommend to prospective parents who have not yet gone through the process?
First and foremost, understand that it is an emotional process that is not always smooth. The most important thing is that Tammuz will accompany you until the realization of the dream, no matter when it happens and how long it takes. You are not alone. It is also important to maintain a lot of patience and perseverance and, of course, never stop believing in the goal because it will come true. The main thing is not to give up on your dream of becoming parents!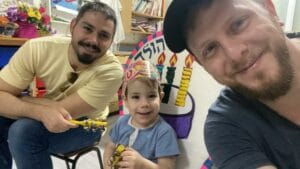 How many children do you have now?
Our eldest daughter is 4 years old, and our younger son 3 years and 4 months old. They are two little miracles and beloved. They are the reason we wake up every morning, they give us strength and love at any given moment.
It turns out that dreams do come true, they are even better in reality than in imagination!
Thank you for sharing your story, Tiran.
We wish you and your family good health and a happy life!